The Ignite Ole Miss page will be live from now through April 10th.
https://ignite.olemiss.edu/MBASupportsGroveGrocery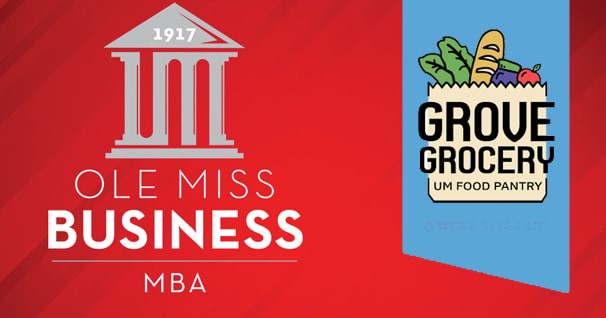 MBA Supports Grove Grocery

You are invited to join in our effort to fight hunger by contributing to Grove Grocery! Join us in our mission as an Ambassador!

ignite.olemiss.edu
More details below:
After surveying 86,000 students the Hope Center for College, Community, and Justice found that 45 percent have experienced food insecurity. As a result, students physical and mental health has declined, effecting their academic performance. Unfortunately, due to COVID-19 food insecurity rates have increased and students are still in search of their next meal.
It is our goal to reach maximum effectiveness with the backing of every campus organization. Thus, our MBA team would greatly appreciate your involvement to help the UM Food Bank discretely alleviate food scarcity among the University of Mississippi students and employees. Your donations will go towards meal swipes, Grab-N-Go bags, grocery orders, and other items.
You can further assist our campaign by clicking and sharing our website on social media and using our hashtag, #MBASupportsGroveGrocery. If you would like to donate or gain more insight on our campaign, please visit our website https://ignite.olemiss.edu/MBASupportsGroveGrocery.
Thank you in advance for your support!